Looking to put your old gear to work? Our first goal for your new or pre-owned gear is to get it to our non-profit collaborators and local partners around the world who need it most.
Our partners in Ecuador, Mexico, Vietnam, Bangladesh, Democratic Republic of Congo, and across the United States need all sorts of camera, field, and computer gear to accomplish our goals in conservation ecology. And let us know if you'd like to receive a tax-deduction for your contribution!
We accept all current Digital SLRs and mirrorless cameras and through our partnership with Tempe Camera Repair we can even accept some that need to be serviced or repaired. Please include batteries and charger if possible. Accessories like flashes are accepted if in good working condition, as are lenses that fit current mounts.
Film SLRs and accessories are also accepted as long as they are in good working condition, but we do not accept Fuji or Sony film cameras, or Polaroids. Note that we are able to service and repair a few models such as: Canon AE-1 and AE-Program models, but not the A-1; Nikon FM, FE, FM2, and FTN, Minolta SRT 101, 201, etc.
If you have camera gear to donate, please ship them to our partner Tempe Camera Repair who handles all our incoming camera donations at the following address:
Tempe Camera Repair
c/o The Biodiversity Group
606 W. University Drive
Tempe, AZ 85281
480-966-6954 x 120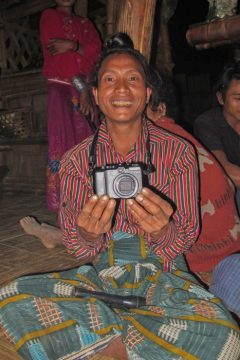 Other Items We Can Use
While there's some gear that is not practical for use in the field in this day and age, don't worry! Whatever we cannot use will be sold to support our mission or responsibly recycled.
Please send any of the following gear to:
The Biodiversity Group
12690 W Cactus View Ln

Tucson, AZ 85743
le hard drives 500GB or larger;
Smartphones: Any less than five years old;
Action cams/GoPro cameras;
Digital video cameras (none with tapes)
Studio lighting and sets;
Tripods, batteries, and other camera accessories;
Underwater camera gear;
GPS units;
Flashlights;
Two-way radios;
Drones;
Backpacks and camera bags;
Camera traps;
Field audio loggers (i.e., AudioMoth) and quality digital
 recorders;
Camping gear;
Binoculars;
Spotting scopes;
Tree climbing gear;
Boots, rain jackets, etc.;
Animal tracking equipment (i.e., GPS satellite trackers, VHF transmitters);
3 remote field weather stations;
Nanopore DNA sequencer kit; and
Others – Contact us before sending