Donate your old camera
and other gear to TBG
Looking to put your old gear to work? We can use all kinds of used equipment for our work, and we will make sure that your contribution is put to good use.
We and our collaborators and guides in Ecuador, Mexico, Vietnam, Bangladesh, Democratic Republic of Congo, and across the United States need camera, field, and computer gear to accomplish our goals in conservation ecology.
And you can get a tax-deduction for your contribution! Send us any of the following gear and let us know if you'd like a receipt for your donation.
Just contact us today with a general idea of what you are donating and please ship them to our partner Tempe Camera Repair who handles all our incoming camera donations at the following address:
Tempe Camera Repair
c/o The Biodiversity Group
606 W. University Drive
Tempe, AZ 85281
480-966-6954 x 120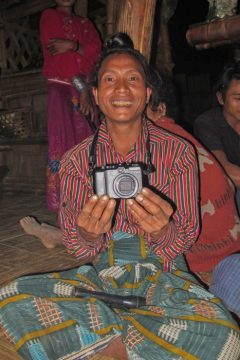 Items We Can Use
Use, Give, Repair, Recycle
Our first goal for your pre-owned gear is to use it ourselves or get it to our collaborators around the world who need it.
While there's some gear that is not practical for use in the field in this day and age, don't worry! Whatever we cannot use will be sold to support our mission.
Please send us the following:
Camera Bodies: dSLR and digital point and shoot bodies of any brand
Non-digital cameras are accepted but will be auctioned to fund the purchase of digital cameras
Camera Lenses
Camera Flashes
Lens Filters: Any unscratched
GPS units
Binoculars
Camera Bags
Sound recording equipment
Video cameras
Memory cards
Camera batteries
Notebook computers: Any with 8GB or more RAM
Tablet computers less than five years old
Portable hard drives 500GB or larger
Smartphones: Any less than five years old
Drones
Action cams/GoPro cameras
Studio lighting and sets
Tripods and accessories
Underwater camera gear
Other: Check with us in the form below before sending