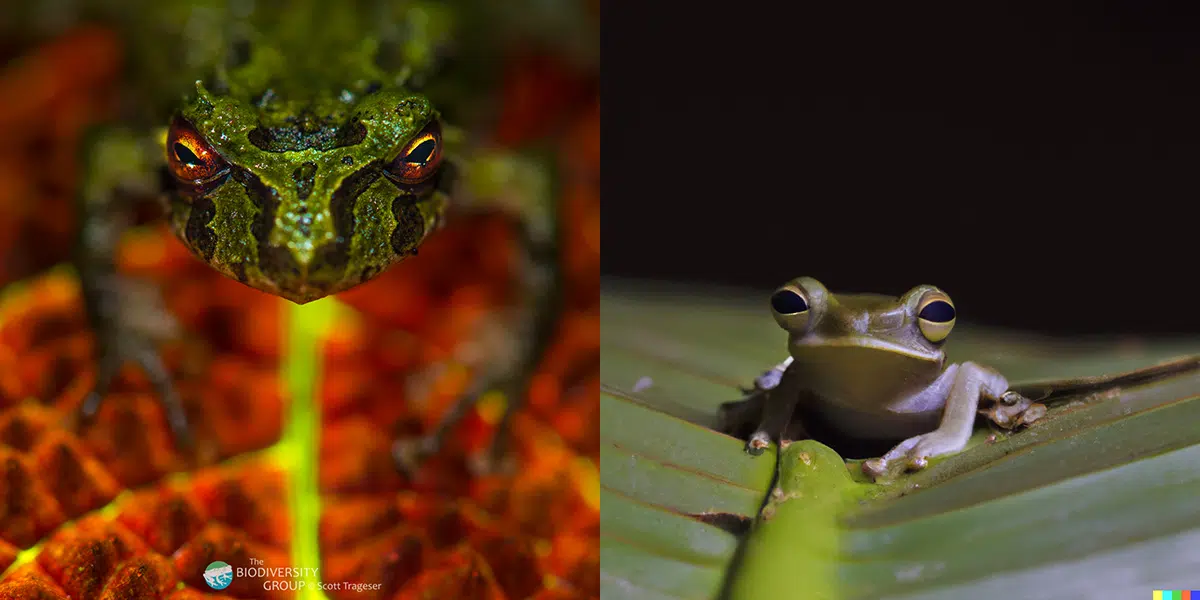 2.
Will A.I. Art Disrupt the Wildlife Photography Industry?
Caption: Professional frog photo (left) vs "treefrog sitting on a broad leaf in the jungle, facing forward" (right) created by DALL-E
The Large Language Model revolution is here and I'm sure you've seen the press coverage of generative art engines like Dall-E 2 and Stable Diffusion. There's even other systems which can write computer code and create music, essays, and video. Alarmist headlines dominate my news feed describing the impending doom for the creative professional industry, hanging over our heads like the sword of Damocles. In light of this, the art community is understandably scrambling to protect their livelihoods. And those fears may very well be justified, but at the very least this year has taught us that we should seriously take some time and think about our roles in an ever-shifting world. So, let's have a think…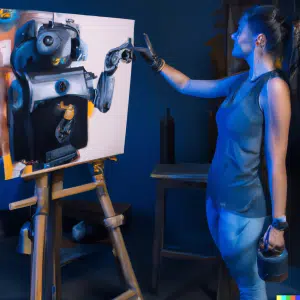 We've seen this situation play out before in our storied history when technology routinely upends traditional labor roles, but there was a bit of an exciting twist this time around—cue Moravec's paradox. The paradox describes how, collectively, we thought (wished) that our creative jobs were safe for a while longer, that truck drivers and factory workers would fall to the AI revolution before us. We hoped we'd be the last to be replaced by computers for how could a computer ever compete with the most human of human qualities–creativity? And yet here we are with our creative heads on the chopping block. If only Moravec could have seen this paradox coming!
One of the most recent iterations of upheaval was the introduction of digital photography which gripped the photographer scene in the early 2000s. Photography evolved from a technical task requiring esoteric knowledge of film development and calculating exposures into something that can easily be enjoyed by everyone with a cell phone. The resulting exponential surge of photos spelled the end of the stock photography era, a long-term livelihood for many. It's now virtually impossible to make a living selling stock photography; where once static images were enough, photographers must now adapt to sell stories accompanied by text and purpose or find a paycheck somewhere else.
As a professional wildlife photographer myself, the surge of free photos online shifted my intentions from capturing photographs that alone would sell for $$, to strategically capturing photographs which are part of an article intended to sell an important message or more fully showcase the deep beauty hidden away in remote reaches of the world. Few people can craft a quality photo story! And on occasion I even create photographs solely for conscious appreciation rather than monetary appreciation *gasp*, which some would regard as a purer form of photography anyhow. A blessing in disguise.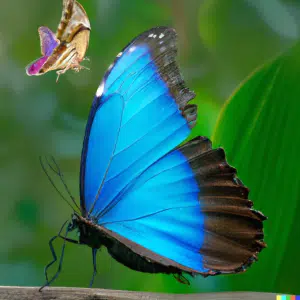 Fear not though, there's still a role for professional photographers, especially for wildlife photogs, and I believe there will be for several years to come. Have you played around with generative art? Have you tried to recreate a wildlife photograph with it? Funny thing is that the deluge of mediocre photographs online are working to our advantage now. These Large Language Models like DALL-E are only as good as the data being fed into them. They are trained on vast amounts of accessible data and it seems that until professional quality photographs begin to rival the preponderance of every-day cell phone shots online, the quality that DALL-E can produce will reflect the mediocrity available to it. It's intrinsically more difficult to take out your professional camera, process, export, and post the images, so really until either 1) DALL-E learns what qualities constitute a visually appealing photograph and can discriminate, or 2) far more people learn to compose a good photo, digital photography will have a significant edge. It's important to note here that AI isn't creating art in a traditional sense, it's assembling art. It pattern matches at scale from hundreds of years of human art. Generative art therefore doesn't make human creativity any less special; AI art couldn't exist without human art.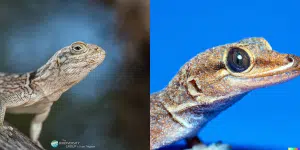 Now, how long will that photography edge hold? That's anyone's guess, but it will surely erode and possibly erode quicker than we hope. Likewise, potential to maintain a livelihood anchored in the base act of painting a beautiful canvas will fade and new opportunities will shine. We can reasonably expect far fewer livelihoods to be reliant on art creation just as fewer photographers can make a living on stock photography. Some artists may always be sought after, with collectors coveting their niche work; think natural diamonds vs artificial. Other artists will outlast the competition by seeking avenues to harness their creativity in ways that contemporary AI effectively cannot. Similar to the God of the Gaps theory, the future space for traditional art professions will continue to shrink and only the most creative and entrepreneurial will persist. In the end, the industries with the least accessible data and the least revenue will likely be the last to capitulate to AI *high fives to all other poor field biologists and wildlife photographers*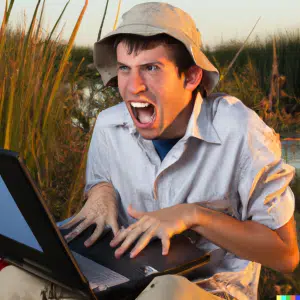 Let's take a moment to fully appreciate the historical significance of this moment. Our society is evolving quicker than ever before, in fact, the rate of change itself is accelerating. In Ray Kurzweil's book "The Singularity is Near", he predicts we will see 20,000 years of change in the next century alone. We have successfully amplified human muscle power exponentially with machines, brain power exponentially with computers, and now we are doing the same with creativity through AI. So, what happens when generative art is sufficiently refined and available to the world with nearly all discipline-specific creatives out of work? I argue that human creativity will be allowed to blossom like never before. Free from the confinements of the labor and time intensive processes of learning how to paint, play a guitar, or operate a camera, the playing field will be leveled, unlocking the artistic expression of billions of individual minds.
Are we better off with the power of photography in the hands of many or to have been restricted to the few? Will we better off with music and animated motion graphics in the hands of many or restricted to the few? Look at what TikTok has brought the masses by lowering the bar on applying special effects to video. Now a 12 year old can create captivating special effects that would have required a Hollywood studio 10 years ago and we enjoy these videos daily without hesitation or regret or consideration for the special effects artists that will likely also be losing their jobs. We must ask ourselves, in the end what is the point of art, why should we create it? Is it to showcase our skills as an artist, to line our pockets, or is it to create beautiful connections between people and your intricate mind?
*disclaimer* This blog article was prepared by the author in their own personal capacity. The opinions in this article are the author's own and do not necessarily reflect the view of The Biodiversity Group.